To view subscriber details, go to your plugin admin and click Subscribers menu (Refer Screen). In default it will show only emails start from A,B,C. To view all the emails, click ALL button in the top. We have import, export email address facility in this page. Click corresponding button to import or export your email address. also we have options to resend confirmation mail to subscriber.
In your WordPress administrator section go to Email post menu and select Subscribers menu to configure this plugin.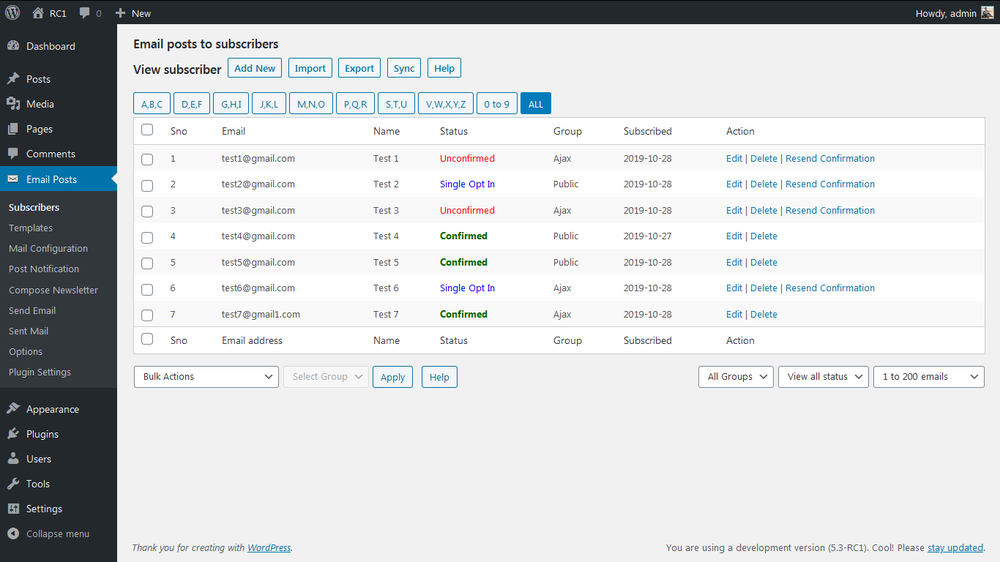 Export email address in csv format
This is a new option that allows you to download all users into a formatted text file (CSV) for later import on another site of yours, or for using particular emails of it in your ordinary mail client, or for migrating your WordPress site to another server.

Import email address
Click Import Email button to import/upload the emails into this newsletter plugin. In the upload page we have options to upload the email address in the CSV format. As per the below screen shot create the CSV file and use it in the upload page.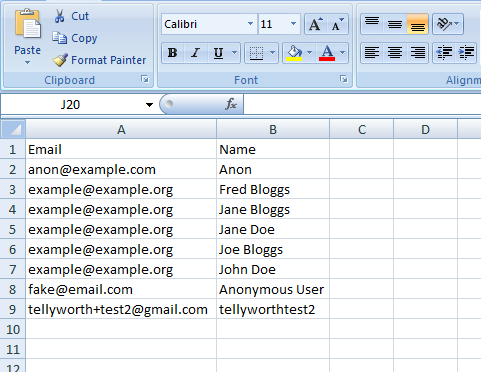 Click Browse button in the page to select the CSV file and finally click Upload CSV button to upload the emails.

Sync register email address
This option allows you to add email address automatically to this plugin subscribers list immediately after the registration is completed in your blog. In the page you have option to select default GROUP. newly register email address automatically go into that GROUP.
Bulk Actions
In this module we have bulk option to update group of all the email address in one click and we have option to delete all email address in one button click.
Video Tutorial
Plugin Official Page
http://www.gopiplus.com/work/2014/03/28/wordpress-plugin-email-posts-to-subscribers/