New simple gallery WordPress plugin is to display images as an automatic slideshow that can also be explicitly played or paused by the user. It rotates and displays an image by fading it into view over, with navigation controls that pop up when the mouse rolls over the gallery.
Show images either as an automatic or manual slideshow.
All slide consists of an image that can be hyper-linked.
All slide can have a description associated with it.
This is the XML based slideshow, so to add or delete the images.
Take the "new-simple-gallery.xml" XML file from plugin folder.
Add/update/delete the image in the xml file.
You can use full image path in XML file.
Very important : Please take your XML for backup before update the plugin to new version
See live demo on sidebar also on this post. roll over the mouse on the gallery to check the description and navigation link. Also check the superb slideshow gallery WordPress plugin.
Installation Instruction
Method 1
Download the new simple gallery plugin from download location.
Unpack the *.zip file and extract the /new-simple-gallery/ folder.
Drop the 'new-simple-gallery' folder into your 'wp-content/plugins' folder.
In WordPress administration panels, click on plugin from the menu.
You should see your new 'new simple gallery' plugin listed under Inactive plugin tab.
To turn the WordPress plugin on, click activate.
Method 2
Go to 'add new' menu under 'plugins' tab in your WordPress admin.
Search 'new simple gallery' plugin using search option.
Find the plugin & Click 'Install Now' link.
Plugin configuration.
Option 1. Go to widget menu and drag and drop the "New simple gallery" widget to your sidebar location.
Option 2. Copy and past the below mentioned code to your desired template location (ie in the PHP file).
<?php if (function_exists (nsg_show)) nsg_show(); ?>
Option 3. Use the short code to add the galley into the pages or posts.
[new-simple-gallery filename="new-simple-gallery.xml" width="400" height="300"]
Filename = new-simple-gallery.xml (This is the name of the XML file gallery, this xml file should be available in plugin folder.)
Width = 400 (This is width of the gallery.)
Height = 300 (This is the height of the gallery.
Admin page
In your WordPress administrator section go to Settings menu and select New simple gallery menu to configure this plugin.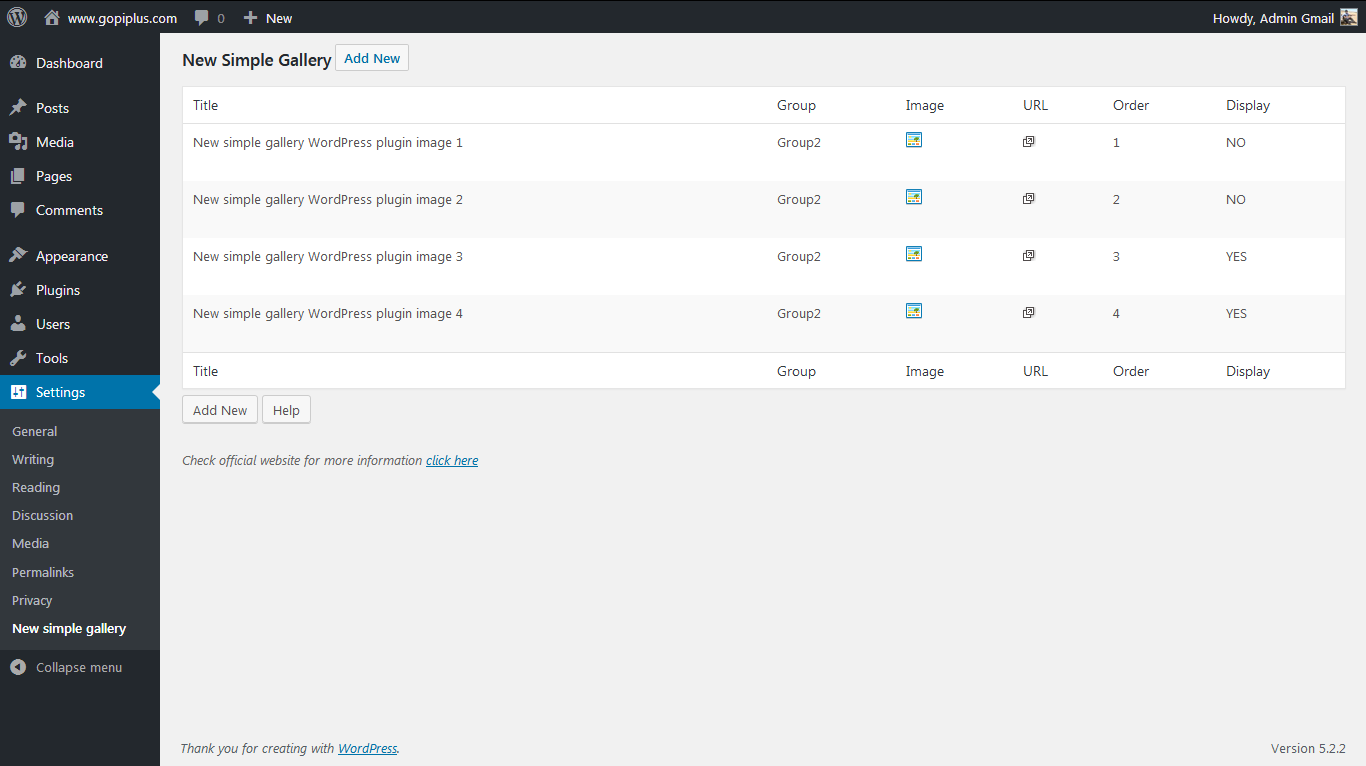 Frequently asked questions
1) How to arrange the width & height of the slideshow?
For widget width & height available in setting page, For page & post width & height is depends on the string.
2) How to change the slide Fade Duration, Pause, Cycles?
Option available in setting page ( New sample gallery menu under setting TAB in word-press admin)
3) How to add more image?
Open XML file and add more images,
4) How to edit images & description?
Option available in XML files
5) Not able to see next, previous, play button in the gallery?
open "new-simple-gallery.js" and give full path for the images.
6) Very important?
Please take backup your existing XML files when you update this plugin in future.
Plugin official page
http://www.gopiplus.com/work/2010/08/07/new-simple-gallery/
Download location
http://www.gopiplus.com/work/wordpress-plugin-download/
Video tutorial
http://www.gopiplus.com/work/2011/07/10/new-simple-gallery-wordpress-plugin-video-tutorial/