Premium wp blog wordpress theme is a free theme from gopiplus. it is a clean and light theme with JQuery Slider in the home page. It is compatible with wordpress 3.6+. This theme is best suited for Blog type wordpress sites. The theme is created with latest HTML and CSS3 code and is fully responsive which means it looks good on any mobile device. Easy to customize and manage your site with features such as Title, Logo, Social Icon, Background color, Footer text and Navigation.
[GOPIPLUS-ADS=AD1]
Features of this theme
Free theme
Easy to Customize
Responsive design
Valid XHTML + CSS
Firefox, IE8+, Chrome and Safari compatible
WP 3.6+ compatible
Blog-style Structure
Social Icon settings
Home page screenshot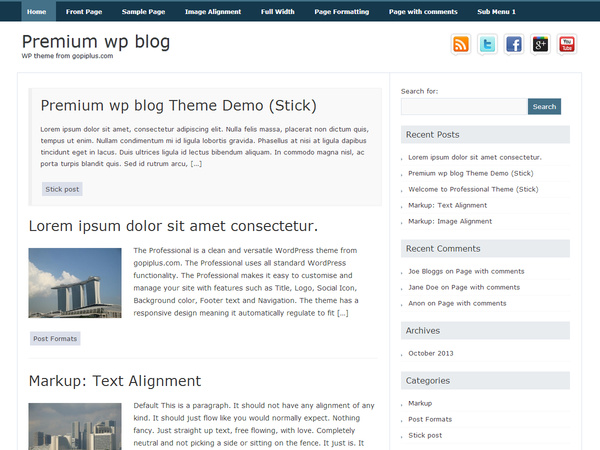 Theme customization
The Professional wordpress theme supports theme customization API. Navigate to Theme Customizer menu under appearance menu to upload the theme logo, set the social bookmarks icon and footer texts, background color and images.
Admin ==> Appearance ==> Theme Customizer
[GOPIPLUS-ADS=AD2]
Frequently asked questions
Live Demo
http://www.gopiplus.com/demo/premium-wp-blog/
Theme documentation
http://www.gopiplus.com/work/2013/10/26/premium-wp-blog-wordpress-theme-documentation/
Download link
http://www.gopiplus.com/work/2013/10/26/premium-wp-blog-wordpress-theme-download-link/
According to Author this theme is not original theme, some codes copied and modified from SmartBlog, Iconic One and DMS WordPress themes. Thus this theme is not listed on WordPress directory.