Scrolling down popup plugin create the popup window with drop in scrolling effect. With this plugin we can confirm that particular content on your page gets attention to user.  To display important announcement, an advertisement, or a promotional offer we can use this plugin.
Features of this plugin
Simple popup plugin.
Easy customization.
Scrollable popup effect.
Session option to display popup once per session.
Video tutorial
[GOPIPLUS-ADS=AD1]
Content management page form details
Popup Window Width:  Enter the width of the popup window, this is mandatory field. (Ex: 300)
Position (Left Space):  Enter the required left side space. (Ex: 500)
Position (Top Space): Enter the required top space. (Ex: 200)
Scrolling Speed: Enter the scrolling speed. (Ex: 15)
Popup Window Border: Enter the popup window border as per example. (Ex: 2px solid #666)
Popup Window Close Button Position: Enter the close button position. (Ex: left-top/right-top/left-bottom/right-bottom)
Popup Window Background Color: Enter the background color of the popup window as per example. (Ex: #FFFFFF)
Popup Window Font: Enter the popup window font style as per example. (Ex: Verdana, Geneva, sans-serif)
[GOPIPLUS-ADS=AD2]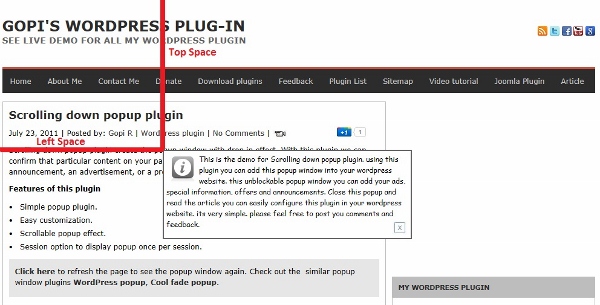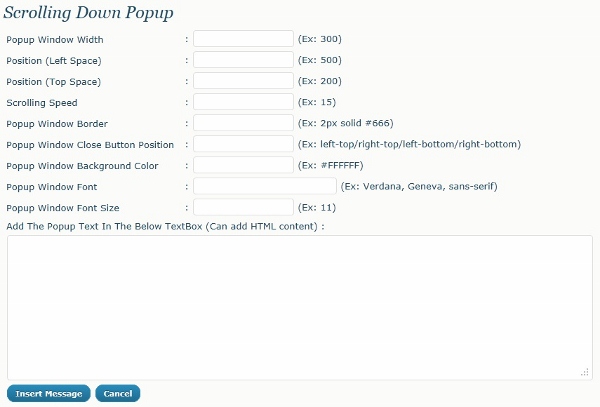 Download link