This is the Joomla version of Wp photo text slider 50 wordpress plugin. It uses the Jquery for the sliding effect. With this module we can create the beautiful slider optionally contain heading, image and content. Four different slider option available Left to Right, Right to Left, Up to Down, Down to Up, and this module supports all the browsers latest version.
Module features
Can add many time in the same page.
Each image hyper-lined.
Have option to show description along with image.
Live demo available on this post. We can add more slider in the same page using admin module name option. This module have separate CSS file. If you know basic CSS, then it will be easy for you style it the way you like.
Follow the link to find the same slider for WordPress content management system. also have lots of WordPress slideshow available in the sidebar.
Module installation instruction
Download the Photo text slider module from download location.
Log into the Administrator section of your site.
Go to Extensions ==> Manage ==> Install menu.
Click Browse button and select the downloaded ZIP file.
Click Upload & install button to complete the installation.

Live demo 1
Creating a new module instance
In your Joomla admin go to the Modules (Extensions ==> Modules in your admin menu). You should see the module Photo text slider listed among the others. Simply click on the module name to open the module editor.
If you cannot find an instance of your new module, click the new button. The new module should be listed among the types available, select Photo text slider which will create a new instance.
Set up the module parameters
Navigate to below link in your Joomla admin to set up this module.
Extensions ==> Modules ==> Select Photo text slider (See below screen)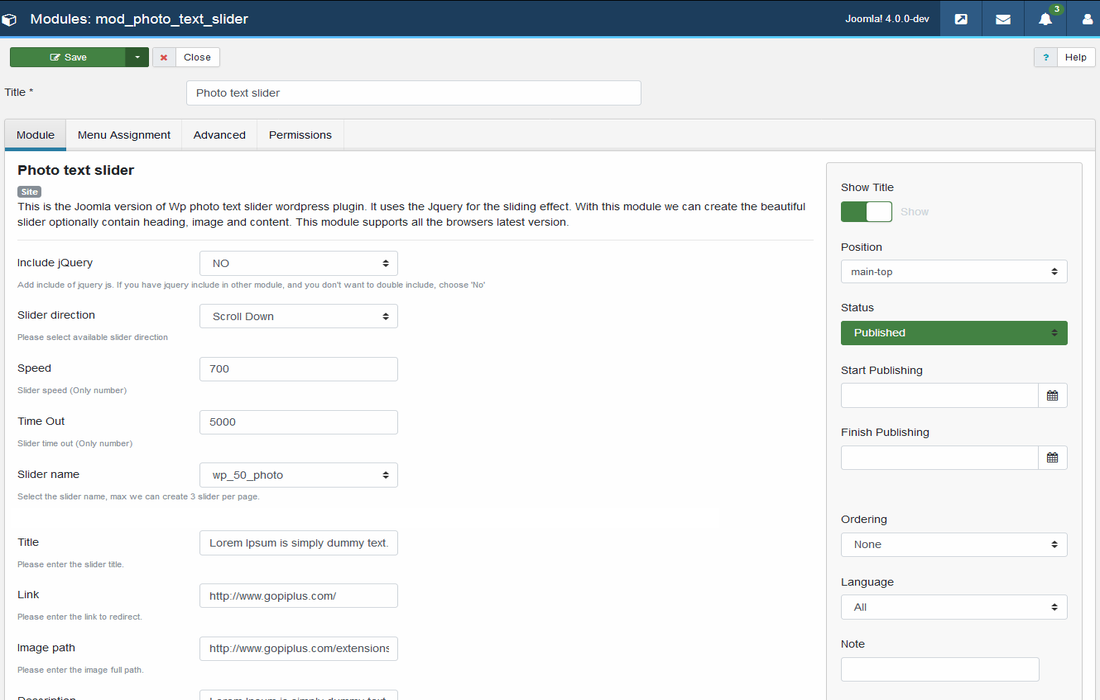 JQuery Setting :
This module using jQuery for cycle news, If you have JQuery include in other module, and you don't want to double include, choose NO in this option.
Scroll Settings
Slider direction: We have four types of slider direction, select the one for the module.
Speed: This parameter is to manage the slider speed.
Time Out: This parameter is to setup the time out between slider content.
Slider name: Select the name for the module, this is helpful if we create more then one module in the page page.
Slider Text
Title: Slider title
Link: When someone clicks on the title or images, where do you want to send them.
Image path: Full path of the image, where is the image located on the site.
Description: Detail description of the slider.
Download link