Everyone loves fading in and fading out; it is an excellent way to transition between two messages. Using Fade in fade out text joomla module we can create the super fade in text gallery with our own text. In the admin we have option to enter our own text. Front end it will show the fade in gallery with the entered text.
By default, the script fades from black-to-white upon enter, and white-to-black upon exit.
Live demo available below, if you want to create the same fade in fade out effect for article title use my fade in fade out article title module.
Live demo
Features of this plugin
Easy to customize.
Option to update fade wait time.
Support all browser.
Admin option to add our own text.
Module installation instruction
Download the fade in fade out text module from download location.
Log into the administrator section of your site.
Go to Extensions ==> Manage ==> Install menu.
Click Browse button and select the downloaded ZIP file.
Click Upload & install button to complete the installation.

Module configuration/Creating a new module instance
In your Joomla admin go to the Modules (Extensions ==> Modules in your admin menu). You should see the module fade in fade out text listed among the others. Simply click on the module name to open the module editor.
If you cannot find an instance of your new module, click the new button. The new module should be listed among the types available, select fade in fade out text which will create a new instance.
Module admin screen
Joomla 3.6.x : Navigate to Extensions ==> Modules and select the module from the list then click Text Management tab to add/update fade-in content. check below screen.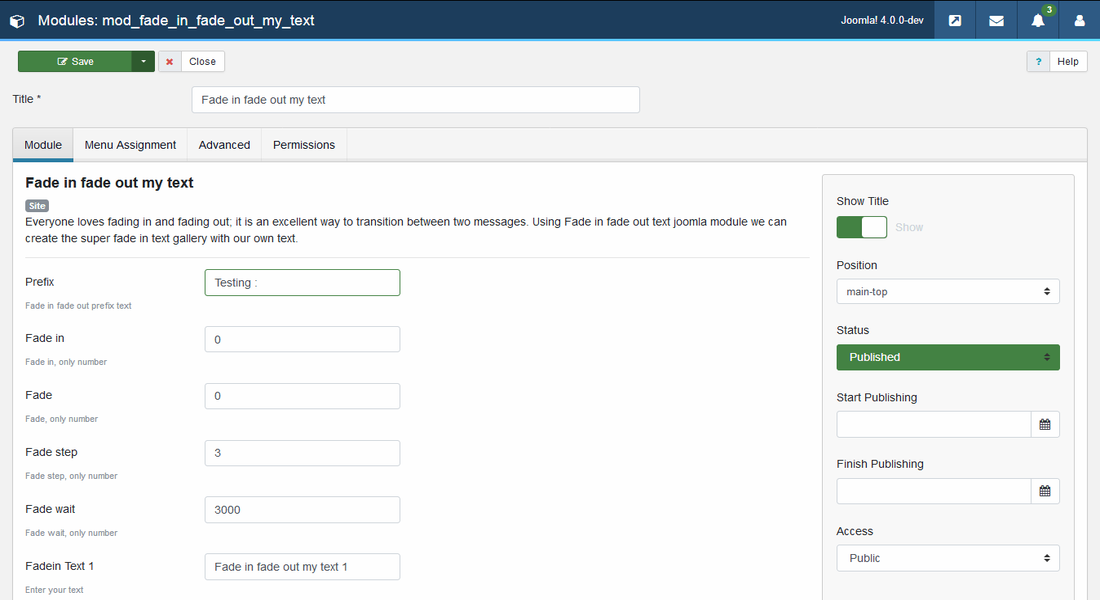 Set up the module parameters
Prefix : Fade in fade out prefix text
Fade in : Fade in time, only number
Fade : Fade time, only number
Fade step : Fade step time, only number
Fade wait : Fade wait time, only number
Fadein Text 1 : Option to add fade in text
Fadein Link 1 : Option to add link
Joomla parameters
Title: It is essential to set a title for the module.
Position: The position on the page where the module will be displayed.
Status: The module needs to be published in order for it to display.
Module Assignment: Assign the module to all pages.
Download location