News RSS feed scroll Joomla module will create the message scroll in the website using RSS feed. In the administrator section, we have the option to enter an RSS feed link. That RSS link title will scroll vertically in the website front end. With this module, we can create the vertical text scroll gallery on the website. Also, we have the option to customize text color and scroll speed in the administrator section.
Features of this module
Easy to customize.
No coding knowledge required.
Option to change scroll direction.
We can use all standard RSS feed (Except blogger).
Module Live demo is available in this page, if you want to scroll your article title instead of the RSS feed use my Vertical scroll recent article module
Module installation instruction
1. Download News XML RSS feed scroll module from the download location. Select the correct ZIP file depends on your Joomla version.
2. Login into the administrator section of your Joomla site.
3. In the menu, Go to System, Install and then click the Extensions menu.
4. Click Browse and select the module you downloaded, then click Upload & Install button.
5. When your Joomla module has been uploaded and installed successfully, you will see a confirmation message.
Admin screen for Joomla 3.7

Admin screen for Joomla 4.0
Creating a new module instance
In your Joomla administrator section go to the Site Modules menu (System, Manage in your admin menu). You should see the module News XML RSS feed scroll listed among the others. Simply click on the module name to open the module editor.
If you cannot find an instance of your new module, click the new button. The new News XML RSS feed scroll module should be listed among the types available, select News XML RSS feed scroll which will create a new instance.
Module configuration
In your Joomla administrator section go to Manage, Site Modules, and select the News XML RSS to feed scroll module from the list then click Module tab to add/update RSS link and scroll style.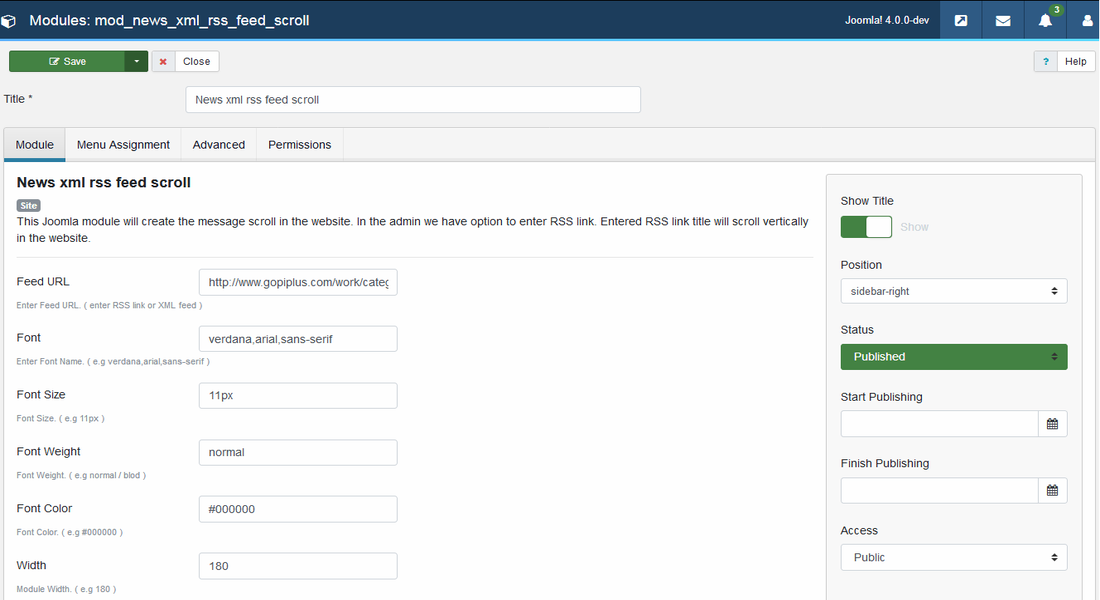 Joomla parameters
Title: It is essential to set a title for the module.
Position: The position on the page where the module will be displayed.
Status: The module needs to be published in order for it to display.
Module Assignment: Assign the module to all pages.
Module parameters
Feed URL: Enter Feed URL. ( enter RSS link or XML feed )
Font: Enter Font Name. ( e.g verdana,arial,sans-serif )
Font size: Font Size. ( e.g 11px )
Font weight: Enter Font Weight. ( e.g normal / blod )
Font color: Enter Font Color. ( e.g #000000 )
Width: Module Width. ( e.g 180 )
Height: Module Height. ( e.g 100 )
Direction: Scroll Direction. ( 0=down-up; 1=up-down )
Slide timeout: Slide Timeout. ( e.g 3000 )
Text align: left / center / right
Text align: top / middle / bottom
Frequently asked questions
Q1) Can I change the scroll manner from vertical to horizontal?
No, This option is not available in this module, you can find other modules for this option.
Q2) Can I change the Slide Direction?
Yes, 0=down-up and 1=up-down.
Q3) Can I customize all other appearance styles?
Yes, Go to the setting page.
Q4) Why my news content is out of range?
In the front end, if you see any news content out of the area or invisible, it is because of the height and width of the module, so you should arrange the width and height of the module in the admin configuration area.
Module official page
http://www.gopiplus.com/extensions/2011/09/news-xml-rss-feed-scroll-joomla-module/
Download location
http://www.gopiplus.com/extensions/download/
Joomla page
https://extensions.joomla.org/extension/news-xml-rss-feed-scroll/